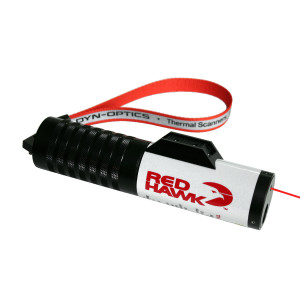 Model 955L Red Hawk™ Thermal Scanner
Quickly Finds Hot Spots
Prevents Call Backs
Sees Through Glass
Works in Full Sunlight

SmartSight™ Technology

Lightweight (less than 1 lb)

Finish Mop Up in 1/5th Time

Saves Time & Money
The Model 955L RedHawk™ Thermal Scanner is the latest and most advanced addition to the time-proven line of thermal scanners manufactured by Dyn-Optics that have been aiding fire fighters and smoke jumpers for years.
Designed specifically for hot spot detection, Dyn-Optics patented SmartSight™ Technology provides a higher contrast ratio than other thermals sensors – up to 1000X greater than thermal imaging cameras (TICs) and IR thermometers. This gives the RedHawk™ faster, more reliable hot spot detection and, unlike TICs, The RedHawk™ can see through glass allowing users to literally "See What Others Don't".
The RedHawk™ includes a bright Class II red aiming laser for pin-point location of hot spots inside structures, on walls, ceilings and other structural features.
The RedHawk™ uses a loud audible alarm to alert the presence of a hot spot and unlike a TIC, it does not need a viewfinder to distract the attention of the firefighter from the scene at hand.
For outdoor use (i.e.. wildland), SmartSight™ Technology allows the RedHawk™ maintain maximum sensitivity even in full sunlight. The RedHawk™ can detect heat sources as small as a lit cigarette on an asphalt roadway in broad sunlight. Unlike thermal imagers and IR thermometer, the RedHawk Thermal Scanner is unaffected by sunlight giving it unsurpassed performance in outdoor applications.

Operation
The Model 955L RedHawk™ Thermal Scanner is easy to operate and designed to give reliable performance time after time. Held like a flashlight and waved around a suspected area, the RedHawk™ quickly finds hot spots and emits a loud alarm instantly alerting the operator. The pitch of the alarm increases as the RedHawk™ is pointed closer to the hot spot allowing the firefighter to quickly locate heat sources without taking his eyes off the area being investigated.
Each time the unit is turned it performs a complete self-test by turning on an internal IR emitter. The RedHawk™ responds just as if it were a real heat source and activates it's alarm ensuring 100% device integrity to give firefighters the confidence they need.
The RedHawk™ Model 955L includes a help needed alarm: by turning the power switch on and off two times quickly, a loud continuous warbling alarm is activated to alert other personnel that help is needed.

No-Nonsense Warranty
The RedHawk™ Model 955L Thermal Scanner is designed to give years of reliable use under the most extreme conditions. The RedHawk™ has an water-resistant, anodized machined aluminum housing and is maintenance-free other than periodic replacement of batteries and occasional cleaning of the exterior.
Each RedHawk™ is backed with an unconditional 3 year warranty. If your RedHawk™ fails for any reason (batteries excluded), please return it to Dyn-Optics and we will repair or replace it free of charge. Please contact Dyn-Optics to make arrangements for a return prior shipping item back to factory.
Features / Specs:
Unique Patented Design
SmartSight™ Technology
Faster, Reliable Hot Spot Detection
Operates Through Glass
Bright Class II Red Laser

Uses Standard AA Batteries
Lightweight, Easy to Use
Rugged Anodized Aluminum Housing
Help Needed Alarm
No-nonsense 3-Year Warranty
The RedHawk™ Thermal Scanner System Includes:
Model 955L RedHawk™ Thermal Scanner
Rugged, Waterproof Storage Case with Lifetime Warranty
Codura™ Carrying Pouch with Velcro™ Strap and Swivel Snap
24″ Retractable Lanyard with Belt Clip
Operations Manual
Batteries Included
3 Year Warranty